You are not popular with buyer's agents.

You have a problem. You want to sell FSBO. Most buyers use agents. Most agents do NOT want to show your home to their clients. Consequently, the best prospects will NEVER see your home.
You might think that listings agents would be the ones objecting to FSBOs. Maybe that is true for some. But, Buyers' Agents REALLY do not like FSBOs. Buyers agents, who represent the majority of buyers, (most buyers now hire buyers agents), avoid showing FSBO homes. This is true even when the FSBO offers a reasonable commission for that one side of the sale.
Often, this idea is difficult for FSBO sellers to understand. They simply do not know enough about how agents operate to appreciate the challenge. The motivation to show FSBO homes is substantially less than showing agent listed properties even if the commission is the same - usually even if the commission is better.
WHY DO AGENTS AVOID FSBOs? IT'S NOT WHY YOU THINK IT IS!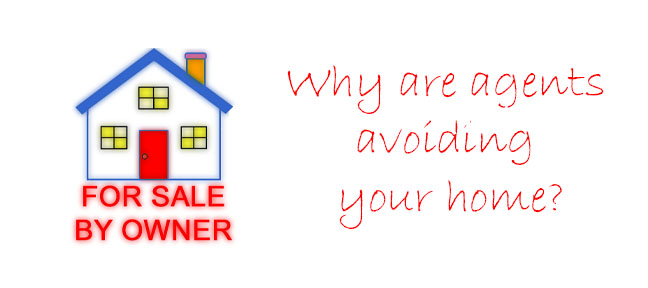 It's not just about the money.
Just because a home has an FSBO sign is out front does not normally make it off limits for agent showings. Usually, the seller is happy with any agent bringing a buyer to look. The FSBO may post that they will "cooperate with agents" or use the term "broker/agent protected" on a yard sign (allow showings, offering a commission on one side) in hopes of getting agents to show the home.
But, in most cases, an agent will only show an FSBO if that agent has a specific request to do so by their client. This can happen during a drive-by. But agents rarely include FSBOs are part of their regular showing schedule even when they should. Most agents simply avoid showing an FSBO even if a good commission is offered. Why?
More work + more risk:

1. It is easier to work with an agent listed home. The other agent does 50% of the work. With an FSBO, buyers' agents usually do most of the work for both sides – without a boost in pay
2. FSBOs are, as a whole, are far more troublesome during negotiations. This has to do with lack of experience more than anything else. Often the FSBO deal goes south simply because the seller gets stuck on minor issues that could be easily worked through if they had an agent.
3. Agents worry about FSBOs not following through with promised commissions or wanting to re-negotiate commissions, mid-process.
4. Experienced agents know that most FSBOs offer below-market commission, even with the added effort and risk required
5. Fewer FSBOs make it to the closing table because the seller does not have the help from a dedicated agent on their side
6. When legal issues arise, as they often do, most FSBO are ill-equipped to manage them thus increasing the probability of litigation
Are you ready to sell your home? Call me today!


SERVING CHARLESTON, SOUTH CAROLINA BUYERS AND SELLERS SINCE 2001 ------------------------------------------------------------------------------------ Buying a home – or selling a home – can be one....